A Closer Look at Timberlane and Its Facilities…with Plans
In the beginning, we housed our llamas in llama sheds. With time, we decided to build a 30′ x 50′ barn for our females. We wanted a barn that looked like a barn! Some years later we added an addition, almost doubling it in size. It handles well our females & their babies. We built both barns ourselves … which tested our marriage twice!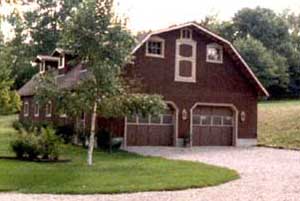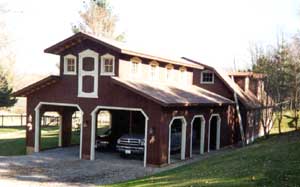 Llamas don't need a lot of "fancy life"' unless you want to give it to them. Just safety, cool places in summer, warm and dry places in winter and the proper food.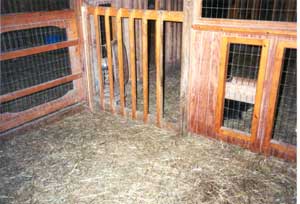 A "cria feeder " should be provided at about two months of age for baby llamas to enter at will multiple times a day for their grain, away from the adult llamas. Jack built ours close to where the mothers eat.
Click here for cria feeder plans.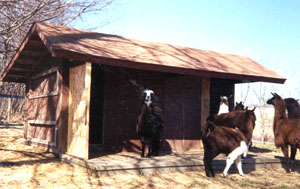 Llamas can do quite well in three or four-sided sheds. Jack designed this one. We have five of them for the boys. Lots of ventilation. Be sure to build them in the shade! This picture shows all four sides closed in for winter. In summer, all four sides open up.
Click here to view the llama shed plans.
Every farm should have a simple, strong, safe, and easy-to-access-both-sides llama restraining chute. Jack designed this one for $90. It can be portable or permanently fastened in one spot. Modify it any way you want. Your vet will love you!
Click here to view the chute plans.
In our barns, we use several hay mangers which have nice big trays at the bottom to catch all the good stuff that falls out of the hay. The uprights do not allow a llama's head to get caught. Here is a plan if you'd like to try one.
Click here to view the manger plans.
If you need a good design for a light-weight, any size, non-warping, sturdy, inexpensive gate, we've got the plan for you. We have 29 of them!  Jack would rather build a gate than a fence.
Click here to view gate plans.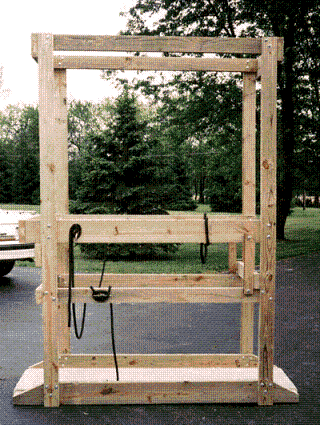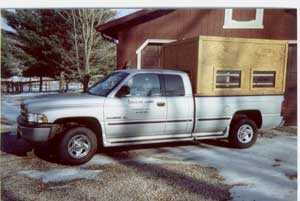 We travel a lot with them and they load easily into our $85.00 wooden carrier Jack built on our pickup truck. Just put the tailgate down and they jump up in the back and lie down for the trip, untied.